What the heck is Online Therapy? Online therapy, also called Tele-Mental health or E-Counseling, is therapy that is conducted between a patient and therapist online through video chat, rather than both people being in the therapist's office.  Many therapists, tele-health companies and insurance plans across the country are offering services online now, and since the Covid pandemic, online therapy has become much more widely accepted as a standard of care.  My patients enjoy the convenience and efficacy of online therapy, and you will too!
How does it work? We all Zoom now, right? An online therapy session works similar to a FaceTime or Zoom call, where two people meet online through a computer, tablet or phone and video chat in real time. In order to protect your privacy, I use a HIPAA compliant, video conferencing platform on Doxy.me. It is super easy to use -  just one click and you are in my virtual office!
The methods of treatment I use when doing online therapy are the same as an in-person sessions.  In fact, research has proven that tele-mental health is equally effective as traditional face-to-face treatments in symptom reduction and patient satisfaction (Dunstan & Tooth, 2012).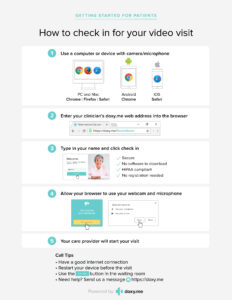 Who is online therapy for? People choose online therapy for many reasons, such as caregiver needs at home, mobility issues, or a tight work schedule.  And many choose online therapy simply because it saves them time it takes to drive to a therapist's office!
Therapists need to work within the state they are licensed, so to work with me online, you would need to reside in Oregon or California (because those are the states I am licensed to practice in), have a phone or computer with a camera and a good internet connection (ex., you can watch Netflix without it glitching).
See below for more details regarding who online sessions may not be for.
What does it cost? See the FAQ page for my current rates.
Prefer to meet in-person? I see most of my patients online, but if you would like to meet in-person for any reason, let's discuss it during our initial, free consultation and decide together what would be best for you!
---
Is Online Therapy Right For You?
Online therapy is a great fit for many people, but may not work for some.  During our initial, free consultation, we can determine if my practice fits your needs.
I am not able to offer online therapy services for:
Clients presenting with serious psychiatric illness, active suicidal thoughts or active thoughts of harm to self or others. In these situations please seek immediate assistance by going to your nearest hospital or by calling 911.
Crisis services or responses to crisis situations.
Clients requiring regular therapeutic attention outside scheduled session times.
Other situations deemed a poor fit.
Please note that if during our initial consultation call we decide that I am not the right for for you for any reason, I promise that I will connect you with resources for what to do next.
Next Steps...
Have any questions or ready to schedule a free consultation?